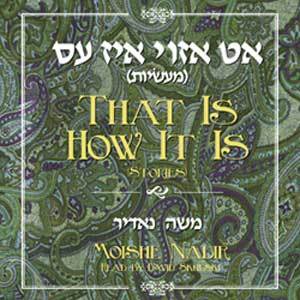 THAT IS HOW IT IS: by Harvey Fink
My rating: 4 of 5 stars
This audiobook edition is presented in an English format, thanks to the savvy translation skills of Harvey Fink. This edition is a collection of over fifty (50) different short stories by Nadir. Reviewed with a glowing recommendation by Tablet Magazine, this narration captures the essence of the Yiddish spirit and soul.
As was covered with Fink's other translated work, when it comes to selecting this audiobook narration, the question is not about content – it is about the narration. The content is provided by one from the heart of the Yiddish culture, and as such, it appropriately captures a dry sense of reflection. The narrative is reflective of the text, accurately and authentically capturing a voice that would bring the original author honor and respect.
Skulkski narrates with a medium and clear pace, easy to understand what he is saying and invoking an emotive response similar to when one speaks with a traditional Jew older in years. There is a sense of wisdom, and yet, sadness as well. Skulski also narrated Reisen's work that was translated by Fink, so if you enjoyed "Poor Matza," there's a good chance you'll enjoy this one too, and vice versa.
Disclosure: I was contracted to write an honest review in exchange for a reviewer copy of the product. The opinions stated in this review are solely my own.
Disclosure: I have received a reviewer copy and/or payment in exchange for an honest review of the product mentioned in this post.