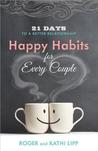 Happy Habits for Every Couple: 21 Days to a Better Relationship by Kathi Lipp
My rating: 4 of 5 stars
Kathi Lipp is no marriage expert, according to her own diagnosis. At the time of writing this book, she was four years into her second marriage and had four teenagers between her and Roger, her husband.
Within the Christian realm, there is a distinct discrimination against remarrying, as if it disqualifies a person from being knowledgeable on relationships and from being a leader (and for those who argue Paul said "being of one wife" is a scriptural basis, you're wrong – it talks about polygamy). However, in my experience, such is not necessarily the case. While I do not encourage divorce, I can firsthand admit that going through divorce teaches you about the failure of marriage, to better educate you on the potential of success. There are statistics that show second marriages are more likely to fail than first marriages, and those numbers are correct. That is, of course, if you do not guard yourself against repeated failure. And in this case, I believe Kathi is the perfect expert, given that she has written a book designed to help prevent marriage failure.
By instilling happy habits, couples can redirect their energy where it belongs. Kathi teaches about being married on purpose, and not happenstance. Marriage is a covenant – a decision – that requires more than simple emotional output and holding hands. Kathi's lessons on happy habits require some prep time, so don't expect to be able to start reading and jump right in. There needs to be a short preparation to make the book a success. That's right – this book is not simply an observation with outlines on ideas to consider, but rather a project to be accomplished. Designed to take place over the course of twenty-one days, this book will create an encouragement covenant and a revitalized marriage. it is critical that this book is not just theory, but application, because that's what we all need, a book that tells us what to do and expects us to do it right away.
Will this book work for you? Truthfully, it depends on how much effort you and your spouse put into it. The premise is promising, and Kathi writes with a skill that encourages and engages the readers, which holds the components of a book of excellence. I recommend this book for those that are looking to repair their marriage, or even put a good pizazz into it. The underlying theme to this book is a necessary part of successful marriages, and would be an excellent read. It is not a singular book on the topic, however, with plenty of books being dedicated to improving marriages. It is, however, a niche text, as there are not as many books designed to help improve marriages among believers.
Disclosure: I was contracted to write an honest review in exchange for a reviewer copy of the product. The opinions stated in this review are solely my own.
Disclosure: I have received a reviewer copy and/or payment in exchange for an honest review of the product mentioned in this post.