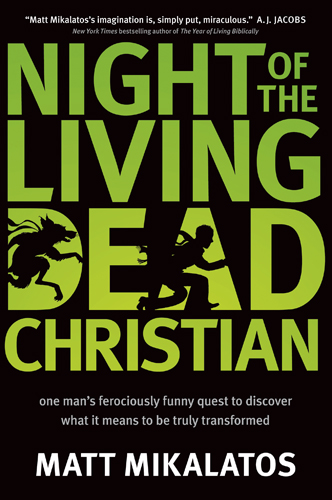 (Click the book image to view the promotional video by Tyndale).

I see monsters. The problem is, though, in order for me to see monsters, I have to be one myself.
I have a friend that I compare to being a zombie. He wants to eat your brains in the name of Jesus. Another friend of mine is like Frankenstein, freakishly muscular and an amateur gamer of all graphics. I know plenty of zombies. There are churches full of them. I even know vampires. They suck your life out of you and leave you smelly and undead. Heck, I'm pretty sure that I'm a werewolf. It's my tendency to anger that gives that one away.

So where did this come from, this obsession with monsters? It's not Halloween. I'm not a horror buff. In fact, I'm terrified of things that go bump in the night. So, the source? I'd like to blame (and honor) Matt Mikalatos. Matt just recently published Night of the Living Dead Christian, a semi-fictional tale of humor and wit that calls attention to the monster inside each of us. Subtitled as one man's ferociously funny quest to discover what it means to be truly transformed, Matt has managed to transform my life in his quirky humor that breaks my dread of monsters and evolutes it to a realization that we are our own monsters.
I definitely enjoyed this book. A fan of fiction, and good Christian fiction (which to me is often times hard to come by), I was able to find a fondness of Matt's writing that will motivate me to read his other work, Imaginary Jesus. Matt's simple and entrancing comedy is the answer to the dilemma I have personally encountered: the monster side of me, and us all, whether it be zombie, vampire, or werewolf, and how to overcome it by the power of the risen Christ.
I highly recommend this book to everyone, especially those who have sin in their lives (I believe that does cover everyone, just to be sure). I recommend this to friends, family, strangers, and churchgoers. Christians, non-Christians, Pagans, and Atheists. It's a great comedy by a funny author who happens to live in Portland, Oregon (just mere hours away from my humble abode).
This is not a horror tale. This is not a thriller. And heaven's no, this is not a mockery of the Gospel or an insult to G-d in any way. I know people who I feel need to read this book, and understand that they may not, because of the offense of speaking of monsters. Is getting offended really worth not getting the needed message, however?
Here's the exciting part of this post…the book giveaway. I have a certificate for a free copy of Night of the Living Dead Christian to give away here on the Scripted Genius. To enter, please comment below, answering the prompt I am about to provide. I will randomly select a winner by name draw from a hat, not by content or "writing talent." If you'd like an extra entry into the drawing, please post the below tweet on your Twitter handle. That means if you comment, you get one entry, and if you tweet the phrase, you get another entry. Sorry, but tweeters with no comment don't get an entry. The deadline to comment and tweet is 11:59 PM, Friday, December 23, 2011, Pacific Standard Time. The winner will be announced on Saturday, December 24, 2011.
Tweet this:
@ScriptedGenius has a "Night of the Living Dead" #giveaway! Enter to win at http://wp.me/p1Gr8Y-q8 before 11/23.
Comment Prompt:
If you were a monster, what monster would you be? Why would you be that monster? Are these traits that you wish to have, or currently possess (for bad and good)? Finally, what does it mean to be a Christian, in your own words?

 
If you missed the deadline to enter for a free copy, don't worry, you can still get it on the SG Store for the cheapest price around…Disclosure: I have received a reviewer copy and/or payment in exchange for an honest review of the product mentioned in this post.